SunstarTV Bureau: Biju Chatra Janata Dala (BCJD),Odisha a student wing of Biju Janata Dala (BJD) the Regional Political party of Odisha has organised a cleaning drive along with mass plantation drive at the premises of Buxi Jagabandhu Bidyadhara (BJB) Autonomous College on Thursday.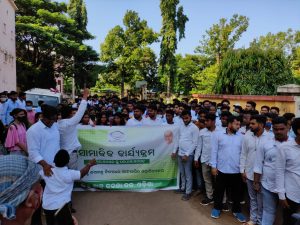 Honorable Chief Minister of Odisha and BJD supremo Shri Naveen Patnaik conveys party members to start this initiative as 'Samajika Karyakarm' a special drive towards betterment of society.
In the first phase of the drive, a mass number of students of BJB Autonomous College as well as other institutions of capital city gathered at the college to initiate the programme.
Minister cum Ekamra MLA Shri Ashok Chandra Panda, MLA (Central) Shri. Ananta Narayana Jena, MLA (North) Shri. Susanta Kumar Rout, MLA Dharmashala (Jajpur) and in charge of youth affairs Shri. Pranab Balabantaray, MLA Banki (Cuttack) cum State President BCJD Shri. Devi Ranjan Tripathy, Ajit Behera Senior Vice President , BCJD and Shri. Shibabrata Nayak Vice President, BCJD were present at the programme.
The whole programme was successfully organised by the direct supervision of BCJD State President cum MLA Devi Ranjan Tripathy and it was monitored by Bhagaban Sahoo, Zone President, Odisha and other student leaders Shri. Jogesh Jena mentor of BJB student Union, Smruti Ranjan Panda State General Secretary of BCJD, Bhubaneswar General Secretary Md. Qasim, Shri. Anupam Parida, Syed Sultan and Mallik Samim Akhtar, Rajan Panda, Raman Panda, Shiba Prasad Mohapatra, Kedar Das, Nishikant Tarenia, Sai Ranjan Behera, Bibekji Shastri, Sarthak Senapati.