New York (SunstarTV Bureau): The aerospace company, SpaceX, owned by Elon Musk, on Wednesday night scripted history by launching Falcon 9 rocket into the orbit carrying four space tourists from Kennedy Space Center in Florida.
The astronauts are led by the American founder and chief executive of financial services firm Shift4 Payments Inc Jared Isaacman. Besides Isaacman, the crew includes Sian Proctor, Hayley Arceneaux and Chris Sembroski.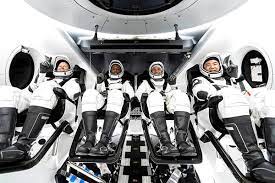 According to reports, all four people have lifted off abroad a Falcon 9 rocket at 8:02 p.m ET yesterday are civilians with non-astronaut day jobs. They are a billionaire high school drop out, a geoscientist, a physician-assistant, and an engineer.
The space trajectory will take the ship with an altitude of 357 miles (575 kilometers), which is deeper into space than the International Space Station (ISS). After spending three days on space, the four crews will splash down off the Florida coast.
They bonded over the course of six months training that included climbing Mount Rainier, high G-force conditioning and experiencing a taste of weightlessness in a parabolic flight.
The mission is aiming to raise $200 million for St Jude's Children's Research Hospital, a leading facility in Tennessee. Arceneaux received treatment there as a child, and now works there.